Painted Gentlemen Murals
This project happened several months ago, but it deserves its own email, so I'd like to write about it before my Year In Review. This is the first project for which I've curated other artists, and it is the first prototype of an idea I believe has big potential.
804 Steiner is the last empty lot on San Francisco's famous Alamo Square Park, just a few houses down from the Painted Ladies. It is the future site of the Painted Gentlemen, a series of multi-family houses built in the Victorian style. A few months, however, it looked like this:
I had the good fortune to meet the developer Ted Bartlett through another developer David Kriozere (more on him later). The three of us sat down for lunch and ended up discussing ways to get more art in the neighborhood. Together we hatched the idea to affix plywood frames for murals onto the fence, and I added a small wrinkle, which is that the murals would be painted onto thin plywood panels hung on top of those frames.
I then organized 8 artists to paint murals. There are a variety of voices and styles here, but every one is a younger artist making a legit attempt to be impactful. I felt that these folks could bring something interesting and fresh to the neighborhood. Plus, I love their art.
I'll tell you briefly about them.
Orlie Kapitulnik (@orliegrams) I met through the 3 Fish Studios, a wonderful woodblock printing shop in Ocean Beach where she works. She also has her own active art practice that I follow through Instagram. This is her first mural, and she was a tad unsure if her work would scale, but it did perfectly.
Mitch Bierer (@mitch_bierer) I met through the St. Louis street artist Eyez. He has been helping me with my own art for the last year, and he's a legitimately talented artist. He's painted murals before, but this is his first in San Francisco. It is a portrait of Perry Foster, a homeless man who passed away recently on the streets of San Francisco.
Pablo Rochat (@pablo.rochat) I met through the BART on BART project. Pablo is a truly unique thinker — he comes up with new and sometimes bizarre ideas. His work these days lives mostly on Instagram, where he's blown up over the last year, doing collaborations with Apple, Comedy Central, The New York Times, and more.
Eclair Bandersnatch (@eclairbandersnatch) is the most prolific street artist in San Francisco. She wasn't initially part of this project, but one of the panels wasn't painted super quickly, so she showed up and just painted her own mural. I respected the chutzpah and didn't want to get into a street art war so just acted as if she was part of the project all along.
wrdsmth (@wrdsmth) is an awesome street artist from Los Angeles that does not (yet) have a huge presence in San Francisco, though he has a lot of fans here. His work is super positive and inclusive, and I was thrilled he agreed to showcase some here!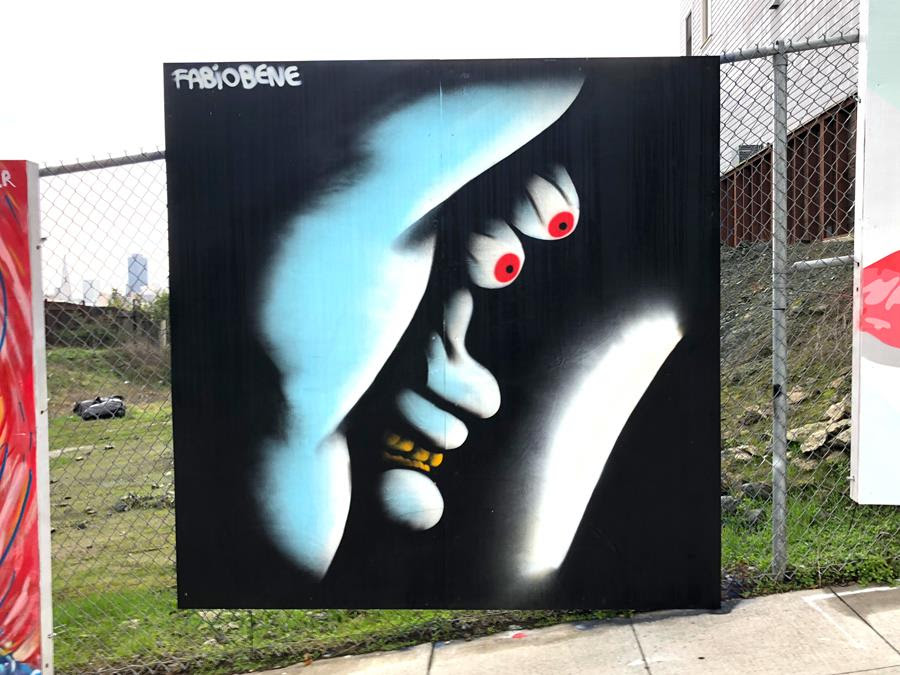 Fabio Bene (@fabiobene) I met through Pablo. He has a unique artistic style and perspective. This particular piece is about our obsession with phones, a common theme in his work.
Nei Caetano (@marginalink) I met through Fabio. I wanted to incorporate a number of styles, and it was great to have a more abstract artist involved.
The final mural is mine. There is no public flamingo mural anymore, and I wanted to get the flamingo heart back up outside somewhere.
This project is part of two larger initiatives.
The first is called Art On Site SF. This group came together through the efforts of David Kriozere, the developer converting the massive carwash / gas station at 400 Divisidero into a residential building with lots of affordable and more affordable housing (i.e. more smaller units instead of fewer, larger, luxury units). About 20 of us — heads of various neighborhood associations, artists, SF Beautiful and its director Darcy Brown, business owners, and other community leaders — have been meeting over the last few months to work to bring more art to the central part of San Francisco. The Painted Gentlemen is our first project, and there are more in the works.
The second is what I think of as The Panel Project. A few years ago I painted the above mural, drove up to a construction site, and screwed it into place. I did something similar for my #ArtOnBART installation, though with double-sided tape. While these were street art (i.e. un-commissioned), I believe there is big potential in painting murals onto standardized panels that can be moved from site to site. Construction walls are a perfect surface for these because they are constructed themselves of standardized panels (i.e. 4′ x 8′ plywood sheets).
The murals at The Painted Gentlemen will remain for 9 months and then be rotated to another location within San Francisco. I already have the location lined up, and it's going to be amazing.
At that point another round of murals will be painted at this location. If you know an artist who might be interested in painting one, have them reach out to pg@fnnch.com. If you know someone who has a construction fence they might be willing to use for art, please have them reach out to walls@fnnch.com.
Thank you everyone who helped make this project happen. And check the murals out if you find yourself near Alamo Square Park.
Best,
fnnch